Já não é de hoje que americanos estão se tornando resistente a vacinar suas crianças. Mas essa campanha publica feita pela CBS na Time Square parece que gerou uma contra reação
Doctors demand the removal of anti-vaccine ad from Times Square
The American Academy of Pediatrics has urged CBS Outdoor to take down the advertisement funded by anti-vaccine groups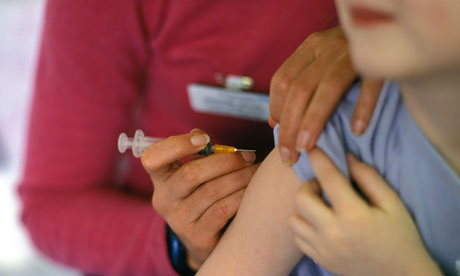 For 17 days, every hour for 15 seconds, a controversial message is being sold to the American public via a CBS billboard in Times Square, New York. A photograph of a mother cradling her naked baby is accompanied by the words: "Vaccines: Know the risks." This image is faded out, and replaced by the Statue of Liberty and "Vaccination. Your Health. Your Family. Your Choice."
Mercola and the NVIC use the ad to endorse their websites, linking the public to what the AAP deems "misinformation" – a barrage of articles blaming common ingredients in vaccines for a number of health problems from breast cancer to infertility.
McCarthy's own son has the condition, which she blames on the MMR shot he received before his diagnosis. Her bestselling Louder Than Words: A Mother's Journey in Healing Autism warns parents of the "dangers" involved in vaccinations. NVIC's website recommends A Shot in the Dark, one of the first books to link vaccines to autism and, in its words, a "classic".
On 13 April, Dr Marion Burton, president of the AAP, wrote to Wally Kelly, CBS Outdoor chairman, describing her organisation as having "worked hard to protect children and their families from unfounded and unscientific misinformation regarding vaccine safety". It seems the 15-second ad is undoing all its hard work.
CBS has yet to comment publicly on the negative attention surrounding the campaign.
Would an ad campaign like this be allowed to run in the UK? It seems unlikely given the recent discrediting of Andrew Wakefield's research linking the MMR vaccine to autism.
In America, it seems, Wakefield, Mercola, NVIC and Jenny McCarthy enjoy the freedom to do and say whatever they please, without fear of being hounded by the media. Perhaps that is why CBS has allowed its Times Square billboard to be used by the campaign: the American media just don't care enough to kick up a fuss.